It is unrealistic to think that someone else will provide for all of your family's needs during and after a disaster. Eventually, help and resources will arrive but having an emergency kit is important. Your kit should be equipped to sustain your needs for a minimum of three days (seven days is preferred). This is especially important when you have special needs such as medications or assistive devices.
Preparing a kit doesn't have to cost a lot of money and you probably already have a lot of the things you will need. Putting them together so you can quickly find everything when disaster strikes will give you peace of mind and help you cope with the disaster much better than someone who is unprepared.
We've provided a few quick links to details about Making a Kit that suits your needs, including considerations for those with Access and Functional Needs, Children and Pets. Having a kit for your car and one at your place of work is also important because disaster can strike at any time.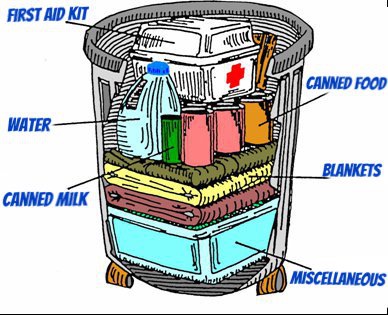 One suggested method for storing emergency supplies is to place them in a large, covered trash container. They can be layered as shown and all kept together in a large covered container. Plastic containers come in all shapes and sizes. They're water and rodent proof and are fairly durable. Choose the size that suits your needs. Be sure the container comes with a securing lid and preferably on wheels for easy transport.
*Note: It is best to store plastic water containers on top of the contents rather than on the bottom, where they could possibly crack and leak from the weight heavy objects placed on top of them.
Three-Day Survival Pack
Top of the Barrel
Flashlight, radio, batteries
First aid kit
Drugs

Prescription medicines
Any medications your pets may need

Dressings

Adhesive tape 2" width roll
Sterile bandage 4" width roll
Sterile bandage 2" width roll
Ace bandages
Butterfly bandages
Gauze pads (4" x4")
Triangular bandage
Bandages, strips
Cotton tipped swabs

Miscellaneous

Scissors
Tweezers
Thermometer
First aid handbook
Pocket knife
Tissues
Middle of the Barrel
Food
3-day supply of food requiring no refrigeration
Date all food items
Examples:

Canned tuna or pork and beans (1/2 lb. per person)
Nonfat dry milk (1/2 lb. per person)
Dried fruit (1/2 lb. per person)
Canned orange or tomato juice
Peanut butter (1/2 lb./person) *Can supply up to 2100 calories and essential nutrients

Water (1-2 gallons per person per day)
Bottom of the Barrel
BEDDING

Sleeping bag/blankets
Plastic sheet/tarp 

CLOTHING

Change of clothes
Gloves
Sturdy shoes
Jacket

PERSONAL SUPPLIES

Toiletries
Eyeglasses
Personal hygiene (toothbrush/paste, deodorant, feminine supplies, etc.)
Towel
Books, cards and/or games
Paper/Pencil

FUEL & LIGHT

Flashlights
Matches
Candle
Signal light
Sterno canned heat

MISCELLANEOUS

Water purification tablets
Liquid chlorine/household laundry bleach
Eye dropper
Kitty litter (to help with sanitation for human waste)

EQUIPMENT

Can opener
Dishpan
Dishes and utensils (disposable)
Shovel
Axe
Bucket (plastic bag liners)

SUGGESTED ADDITIONAL ITEMS

Cash
Cooking utensils
Heavy-duty aluminum foil
Bar soap
Outdoor grill, camp stove, chafing dish, etc.
Bucket
Axe, hammer and assorted tools
Household cleaner/detergent
Filament tape

INFANT NEEDS (if applicable)

Infant supplies
Toys for children

PERSONAL DOCUMENTS

Telephone numbers
Birth certificate
Health papers
Passports
U.S. service discharge papers
Ownership certificates (for autos, trailers, boats, etc.)
Social Security cards
Insurance policies (health, life and auto)
Will
Certificates of authenticity (for objects of art, etc.)
Household inventory
Photographs of contents of every room (take photos from two angles of each room)
Photographs of jewelry
---
---
---
---
---