Power Lines Down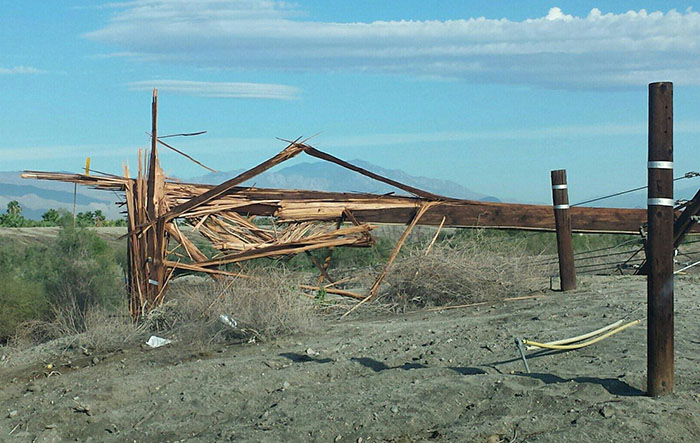 Electricity can be dangerous, even deadly. For safety's sake, always consider power lines live or energized, and never touch or approach a downed power line. If you see power lines down stay at least ten feet away. Be aware that downed power lines may be in contact with other electrical conductors such as chain link fencing, which could also be energized. If someone comes in contact with an energized line call 9-1-1 for assistance – do not touch them because doing so could be deadly. This will help keep you and your loved ones safe.
If Your Power is Out
Keep flashlights, spare batteries and a battery-operated radio for power outages. Refrain from opening your refrigerator unless absolutely necessary to maintain its temperature for as long as possible. If your power has been out for any length of time food items in the refrigerator or freezer may have spoiled and can make you sick. Never ever use a cooking stove or oven to heat your home. Do not use a barbeque, patio heater, or hibachi grills indoors as these will cause unsafe conditions in your home and can result in injury or death.
For information on food safety during and after a power outage, please download this helpful brochure (in both English and Spanish).
What is a Public Safety Power Shutoff (PSPS)?
A Public Safety Power Shutoff (PSPS) is an operational practice that power companies such as Southern California Edison (SCE) may use to preemptively shut off power in high fire risk areas to reduce fire risk during extreme and potentially dangerous weather conditions. These conditions would typically involve weather conditions such as relatively low humidity, strong winds, and hot temperatures in combination with dry fuels. For more information on SCE Public Safety Power Shutoffs please visit their website at www.sce.com/wildfire.
For additional information and tips for power outage preparedness, please visit Southern California Edison's helpful information page by clicking here.
Food Safety Tips
(Click image for full resolution PDF version in English and Spanish)
Flex Alerts / Preventing Power Outages
At times of very high energy usage California's Independent System Operators (CAISO) may issue "Flex Alerts" encouraging residents to conserve energy to help meet demands. Flex Alerts are often issued during extreme temperatures, when air conditioning use is at high levels. If electricity use cannot be reduced to a manageable level power companied may conduct power interruptions, sometimes referred to as "rotating outages" or "rolling blackouts" that typically last about one hour. Sign up for alerts at flexalert.org.
Easy Actions You Can Take at Home
Adjust Your Thermostat
Set your thermostat at 78° or higher during 3-10 pm.
Pre-cool your home by setting thermostats to 72° in the early part of the day (when it is more efficient) and 78° or higher after 3 pm
Use smart or programmable features to help maintain energy savings when you're not home
Major Appliance Use
Postpone using major appliances like the oven, dishwasher, clothes washer, until cooler times of the day.
Run your dishwasher and clothes washer only when full.
Wash clothes in cold water.
Clean or replace dirty filters.
Turn your water heater down to 120° or the "normal" setting.
Close Windows and Doors
In the morning before the day starts to heat up, close windows and blinds to keep warm air out.
Keep windows and doors closed to prevent the loss of cooled air.
Smart Energy Use
Turn off unnecessary lights.
Use lamps with LEDs instead of overhead lights.
Enable "power management" on all computers and turn off when not in use.
Unplug phone charges, power strips (those without a switch) and other equipment when not in use.
Conservation Programs
Consider participating in your utility's demand response program. These voluntary programs are short, temporary measures to reduce energy consumption when power supplies are critically low and a Flex Alert has been issued. Contact your local electric utility to learn about your utility's program and incentives they may offer to participate.
Save Energy at Work
Lighting
Turn off unnecessary office lights, and use natural lighting where possible
Thermostat
In the summer, set your zone thermostat to 78º or higher, when possible.
Prevent Leaks
Check window vents to make sure they are clear of paper and other debris.
Adjust the blinds on windows that receive direct sunlight.
Keep exterior windows and doors closed to prevent the loss of cooled or heated air.
Equipment
Turn off any office equipment that is not currently in use. Alternately, look for sleep or power-saving modes in-between uses during the day.
Enable power management settings on all computers, so that they go to sleep and turn off screens when not in use.
Break Room
Unplug electronics such as coffee-makers and microwaves when not in use and when the day is done.
End-of-the-Day
As you leave the office, get in the habit of checking to make sure computers, printers/copiers, and other office equipment is fully shut down. If possible, switch them off at the power strip to ensure they are no longer draining energy.