Evacuation Planning
Evacuations can be extremely stressful. Planning in advance for evacuations and knowing what to expect will help reduce stress.
During disasters normal reference points such as street signs and address markers may not be available, therefore Riverside County has adopted the US National Grid (USNG) for use during evacuations and disasters. The USNG standard provides a nationally consistent language of location that has been optimized for local applications. Generally, Riverside County public safety agencies use grids at the 1000 meter level.
For more information on US National Grid maps, click here.
An important step in your preparedness should be enrolling with Alert RivCo. This is one of the systems that Riverside County public safety agencies use to alert the public in the event of an emergency. For more information or to enroll, go to Alert RivCo.
Wireless Emergency Alerts is another tool public safety agencies in Riverside County use to alert the public of evacuations. Riverside County may send Wireless Emergency Alerts (WEA) to all cell phones from participating cell phone carriers within a designated geographical area. Since WEA alerts are selected through affected cell phone towers, this system has the potential to reach more transient populations, including visitors and commuters. There is no registration required to receive WEA messages, however, community members can opt out directly on their cell phones under settings. Oversight of the WEA program is performed by the Federal Communications Commission (FCC) and FEMA.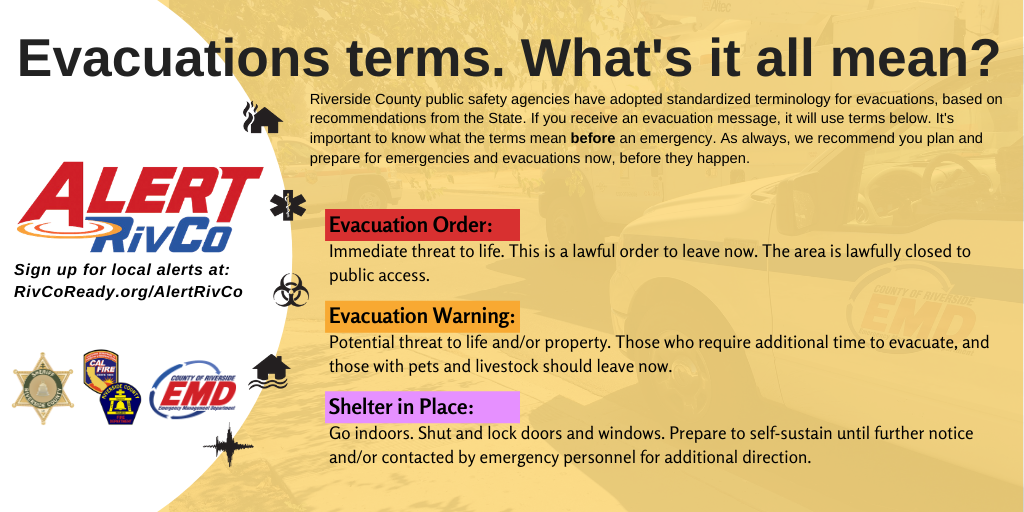 Evacuation Terminology
Riverside County public safety agencies have adopted standardized terminology for evacuations, based on recommendations from the State. If you receive an evacuation message, it will use terms below. It's important to know what the terms mean before an emergency. As always, we recommend you plan and prepare for emergencies and evacuations now, before they happen.
Evacuation Order

Immediate threat to life. This is a lawful order to leave now. The area is lawfully closed to public access.

Evacuation Warning

Potential threat to life and/or property. Those who require additional time to evacuate, and those with pets and livestock should leave now.

Shelter in Place

Go indoors. Shut and lock doors and windows. Prepare to self-sustain until further notice and/or contacted by emergency personnel for additional direction.

Steps to prepare for evacuations
Stay informed
Identify the items you would want to take in the case of an evacuation
Prepare a Go Kit to make collecting important items quick so you do not delay your evacuation
Keep your fuel tank at least half full
Monitor local media outlets and the social media accounts of local public safety agencies