County of Riverside Emergency Operations Center (EOC) is at DUTY OFFICER status (normal state)
---
Resource Available for Residents Impacted by January 2023 Storms
California Flooding Home Cleanup Hotline Available at: (844) 965-1386
If you need assistance with damage from the flooding in California, call the number above to ask for help. [Crisis Cleanup] will connect you with volunteers from local relief organizations, community groups and faith communities who may be able to assist with:
Cut fallen trees

Drywall, flooring & appliance removal

Tarping roofs

Mold Mitigation
All services are free, but service is not guaranteed due to the overwhelming need. This hotline will remain open through Friday, January 27, 2023
PLEASE NOTE: this hotline CANNOT assist with social services such as food, clothing, shelter, insurance, or questions about FEMA registration. Volunteers work free of charge and provide the tools and equipment necessary to complete the work.
** The County of Riverside does not administer this program or have an official relationship with the Crisis Cleanup organization and is sharing this information as a resource available to those in need. For more information about Crisis Cleanup, please visit their website at CrisisCleanup.org.
Image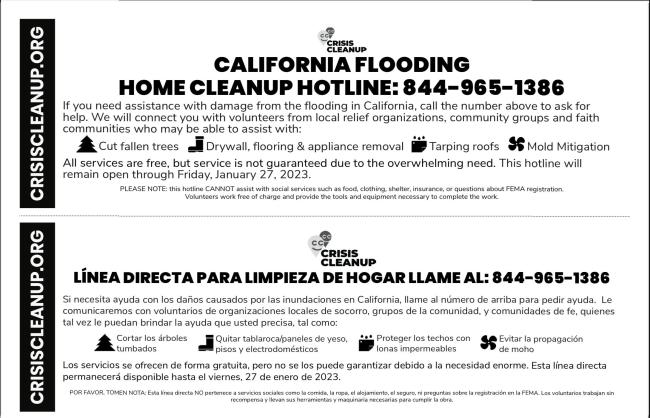 ---
Southern California Edison Public Safety Power Shutoff (PSPS)
THERE ARE NO CURRENT PSPS IN RIVERSIDE COUNTY
When there are extreme and potentially dangerous weather conditions, power companies may need to call a Public Safety Power Shutoff (PSPS) event. During these events, they will proactively turn off power in high-fire-risk areas to reduce the threat of wildfires. The County of Riverside does not control PSPS. For more information on PSPS, please visit the Southern California Edison PSPS website or call (800) 611-1911.
Public Safety Power Shutoffs are not an action taken by the County of Riverside, and questions/concerns should be directed to your power utility provider.
A map has been created to show information related to PSPS activities in Riverside County (map for illustration-click on map for current impacts). It can be found here.
The map image below is an example and may not reflect the actual PSPS status. Please click on the link for up-to-date PSPS information.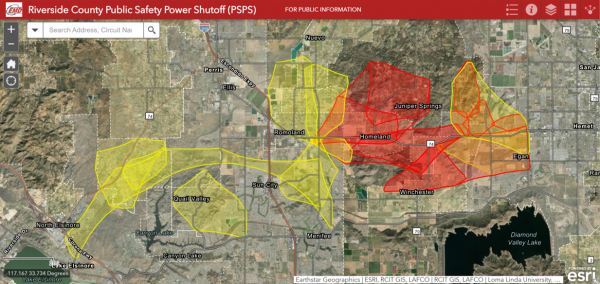 Maps and names of SCE circuits can be found on the Southern California Edison website, here.
For information on Cooling or Warming Centers in Riverside County, a directory can be found here.
---
Burn Scar Flood and Debris Flow Information
Know your risk! Review our Storm Ready page to learn about the dangers of mud and debris flows following wildfire and the safety steps you must take to prepare. 
All residents in burn areas are reminded to be vigilant and prepared to evacuate if public safety officials determine evacuations are necessary. Flooding, mud flows and debris flows can happen at any time.
If you have an emergency, call 9-1-1
Get emergency information for your address via phone, mobile phone, email and text by registering for Alert RivCo.  
---
FAIRVIEW FIRE (Hemet-Temecula area)
9/19, 9 am -- A wildland fire In the unincorporated area near Hemet began Monday, September 5th.
For fire recovery information, click here. To request assistance, please complete the following webform, here.
Information Call Center -- Residents looking for general county services can call 2-1-1 for assistance.
9/7/2022 -- LOCAL EMERGENCY Proclaimed for Riverside County in response to Fairview Fire (Click to view proclamation)
---
---
Click below for up-to-date information from other departments or agencies:
** Check with individual cities for their current information.