County of Riverside Emergency Operations Center (EOC) is at DUTY OFFICER status. 
El Centro de Operaciones de Emergencia (EOC) del Condado de Riverside tiene el estatus de FUNCIONARIO DE SERVICIO.
---
Regístrese para recibir alertas de emergencia locales en RivCoReady.org/AlertRivCo.
To view the most recent information, make sure to refresh your page. 
Para ver la información más reciente, asegúrese de actualizar su página.
---
For recovery information related to recent disasters in Riverside County, please go to our Disaster Recovery page at RivCoReady.org/Active-Events/Disaster-Recovery 
Para obtener información de recuperación relacionada con desastres recientes en el Condado de Riverside, visite nuestra página de Recuperación de Desastres en RivCoReady.org/Active-Events/Disaster-Recovery
---
Southern California Edison Public Safety Power Shutoff (PSPS)
When there are extreme and potentially dangerous weather conditions, power companies may need to call a Public Safety Power Shutoff (PSPS) event. During these events, they will proactively turn off power in high-fire-risk areas to reduce the threat of wildfires. The County of Riverside does not control PSPS. For more information on PSPS, please visit the Southern California Edison PSPS website or call (800) 611-1911.
Public Safety Power Shutoffs are not an action taken by the County of Riverside, and questions/concerns should be directed to your power utility provider.
A map has been created to show information related to PSPS activities in Riverside County (map for illustration-click on map for current impacts). It can be found here.
The map image below is an example and may not reflect the actual PSPS status. Please click on the link for up-to-date PSPS information.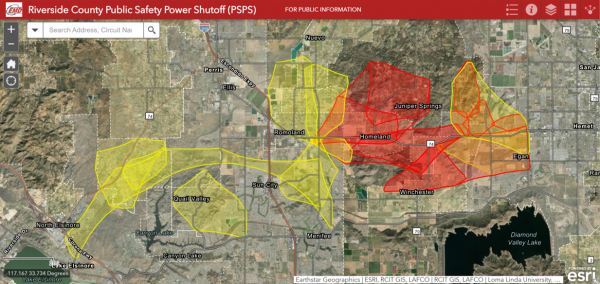 Maps and names of SCE circuits can be found on the Southern California Edison website, here.
For information on Cooling or Warming Centers in Riverside County, a directory can be found here.
---
Burn Scar Flood and Debris Flow Information
Know your risk! Review our Storm Ready page to learn about the dangers of mud and debris flows following wildfire and the safety steps you must take to prepare. 
All residents in burn areas are reminded to be vigilant and prepared to evacuate if public safety officials determine evacuations are necessary. Flooding, mud flows and debris flows can happen at any time.
If you have an emergency, call 9-1-1
Get emergency information for your address via phone, mobile phone, email and text by registering for Alert RivCo.  
---
Click below for up-to-date information from other departments or agencies:
** Check with individual cities for their current information.