County of Riverside Emergency Operations Center (EOC) is at DUTY OFFICER (normal) status.
---
For recovery information related to recent disasters in Riverside County, please go to our Disaster Recovery page at RivCoReady.org/Active-Events/Disaster-Recovery
---
2023 SPRING STORMS
4/15/2023 -- SBA DISASTER ASSISTANCE LOANS AVAILABLE TO BUSINESSES AND NON-PROFITS THAT INCURRED LOSSES RESULTING FROM STORMS ON OR AFTER FEBRUARY 21, 2023
The US Small Business Administration has announced that assistance is now available for businesses and non-profits related to storm-related impacts that occurred on or after February 21, 2023. 
Click here to go to the Disaster Recovery page to learn more.
---
FAIRVIEW FIRE (Hemet-Temecula area)
4/6/2023, 10 am -- SBA Offers Disaster Assistance to California Businesses and Residents Affected by the Fairview Fire (Click Here for Information). The Fairview fire was a wildland fire In the unincorporated area near Hemet that began on Monday, September 5th.
For fire recovery information, click here. To request assistance, please complete the following webform, here.
Information Call Center -- Residents looking for general county services can call 2-1-1 for assistance.
9/7/2022 -- LOCAL EMERGENCY Proclaimed for Riverside County in response to Fairview Fire (Click to view proclamation)
---
Spring Storms
4/4/2023 at 12:00pm -- A Local Emergency was Declared in Riverside County as a result of damages that occurred on March 21 and 22. This is not a guarantee of any assistance for those who incurred losses during that storm event. Riverside County continues to pursue any disaster assistance that the county, its residents and/or businesses may qualify for.
Board of Supervisors Ratification of Local Emergency
The County of Riverside Emergency Management Department continues to monitor for any additional impacts resulting from a series of Spring storms.
Avoid unnecessary travel in areas where snow is likely. Snow play is discouraged until after roadways have been cleared and you should never park in areas not intended for parking or recreation.
Mountain area residents should be vigilant to remove excess snow from structures, as well as to clear walkways and driveways. Anyone experiencing a potentially life-threatening emergency should dial 9-1-1. 
As with many significant storms, power outages are possible. Have a plan for power outages, including keeping your mobile phones charged up, electric vehicles should be charged and gasoline vehicles should be kept with at least half a tank of fuel. NEVER use barbeques or stoves for heating. 
For current highway conditions, visit the CalTrans QuickMap page at: https://quickmap.dot.ca.gov/. For county road closures, please monitor the County Transportation Road Closure update page here. Remember TURN AROUND, DON'T DROWN -- do not attempt to cross flooded roadways.
Everyone is advised to avoid rivers, streams and waterways. Heavy rain upstream could lead to dangerous or deadly water flow. It is not safe to remain and anyone in these waterways should immediately move to higher ground.
For Warm Centers, please visit CAPRiverside.org/Warm-Centers
WAS YOUR HOME OR BUSINESS DAMAGED DUE TO 2023 STORMS?
If your home or business was damaged or incurred losses during recent storms, please click this link and fill out the form. This form is not an application for assistance nor a guarantee of any benefits. The form is to assist the County Emergency Management Department in determining the extent of damages within the community. This information will be used to help determine if Riverside County qualifies for any State or Federal disaster programs.
There is not currently any declared state or federal disaster in Riverside County as a result of recent storms.
---
National Fire Protection Association (NFPA) has a great resource flier to help keep residents in mountain communities safe during significant snow events. Click here to download it from the NFPA website.
Image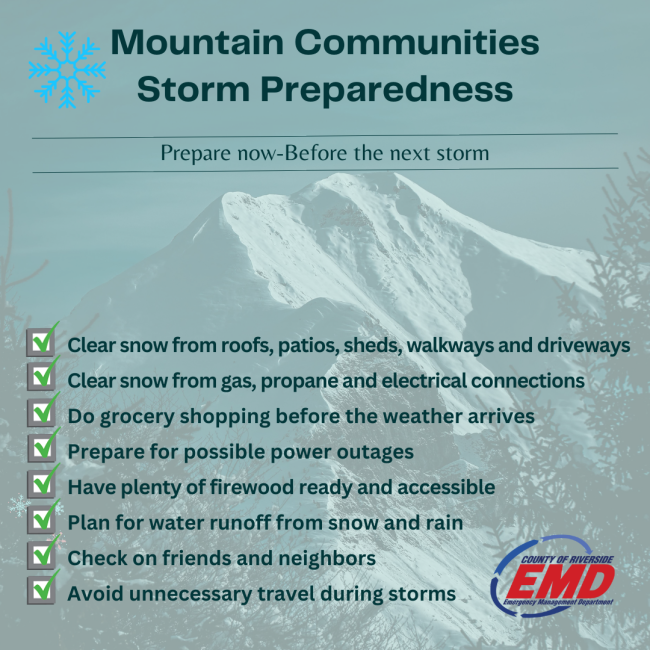 ---
Burn Scar Flood and Debris Flow Information
Know your risk! Review our Storm Ready page to learn about the dangers of mud and debris flows following wildfire and the safety steps you must take to prepare. 
All residents in burn areas are reminded to be vigilant and prepared to evacuate if public safety officials determine evacuations are necessary. Flooding, mud flows and debris flows can happen at any time.
If you have an emergency, call 9-1-1
Get emergency information for your address via phone, mobile phone, email and text by registering for Alert RivCo.  
---
Southern California Edison Public Safety Power Shutoff (PSPS)
THERE ARE NO CURRENT PSPS IN RIVERSIDE COUNTY
When there are extreme and potentially dangerous weather conditions, power companies may need to call a Public Safety Power Shutoff (PSPS) event. During these events, they will proactively turn off power in high-fire-risk areas to reduce the threat of wildfires. The County of Riverside does not control PSPS. For more information on PSPS, please visit the Southern California Edison PSPS website or call (800) 611-1911.
Public Safety Power Shutoffs are not an action taken by the County of Riverside, and questions/concerns should be directed to your power utility provider.
A map has been created to show information related to PSPS activities in Riverside County (map for illustration-click on map for current impacts). It can be found here.
The map image below is an example and may not reflect the actual PSPS status. Please click on the link for up-to-date PSPS information.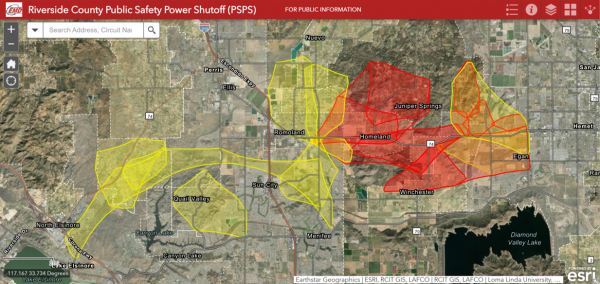 Maps and names of SCE circuits can be found on the Southern California Edison website, here.
For information on Cooling or Warming Centers in Riverside County, a directory can be found here.
---
Click below for up-to-date information from other departments or agencies:
** Check with individual cities for their current information.