County of Riverside Emergency Operations Center (EOC) is at DUTY OFFICER status. 
El Centro de Operaciones de Emergencia (EOC) del Condado de Riverside tiene el estatus de FUNCIONARIO DE SERVICIO.
---
Regístrese para recibir alertas de emergencia locales en RivCoReady.org/AlertRivCo.
To view the most recent information, make sure to refresh your page. 
Para ver la información más reciente, asegúrese de actualizar su página.
---
September 1 Storm Event (Thermal)
A significant storm brought heavy rains to Riverside County on September 1, 2023. The eastern Coachella Valley was hit especially hard. Rainfall caused flooding in and around the Lawson Dump and three mobile home parks; San Jose Mobile Home Park, Vargus Mobile Home Park and the Gamez Mobile Home Park. 
Due to concerns about possible contamination of hazardous materials in the floodwaters, an Evacuation Warning was issued on Saturday, September 2, 2023 due to the possible danger to people and pets. 
An Evacuation Shelter is available at the Galilee Center located at 66101 Hammond Rd, Mecca, CA 92254. Anyone requiring transportation, please call 2-1-1.
Public safety officials have determined that residents and pets may have been exposed to possible chemicals in floodwaters, which may include runoff from the former Lawson Dump site. If you are in the affected area of Pierce, 68th, 70th Ave., and the White Water River you should avoid contact with rainwater and runoff until further notice.
The county is testing the water to help determine if there are chemicals present that may be harmful to humans or pets. The test results may take several days.]
If you were exposed to the rainwater runoff and are feeling ill, contact your primary care physician.
---
Tropical Storm Hilary
August 28, 2023 -- The Emergency Management Department continues to work with local, state and federal partners to assess damages from Tropical Cyclone Hilary. The storm brought widespread, heavy rain and strong winds, with the most intense impacts in the mountain and desert areas. A Proclamation of Local Emergency was ratified by the County Board of Supervisors on Monday, August 28th. 
El Departamento de Administracion de Emergencias está trabajando con agencias locales, estatales y federales para monitorear y abordar los efectos del ciclón tropical Hilary. La tormenta trajo lluvias intensas y fuertes vientos, con los impactos más intensos en las zonas montañosas y desérticas. La lluvia llegó el Sábado, y continuara hasta el Lunes.
August 22, 2023 7:26 AM-- 911 SERVICES RESTORED FOR THE COACHELLA VALLEY AREA / SERVICIOS DE   911 HA SIDO RESTAURADOS PARA EL ÁREA DEL VALLE DE COACHELLA
August 21, 2023 11:41 AM--EVACUATION WARNING AND ORDERS LIFTED / ADVERTENCIA DE EVACUACIÓN Y ORDENES HAN SIDO LEVANTADAS
For more resources and links: / Para más recursos y enlaces:
      Road Conditions / Condiciones de la Calle
       National Weather Service / Servicio Meteorológico Nacional
Image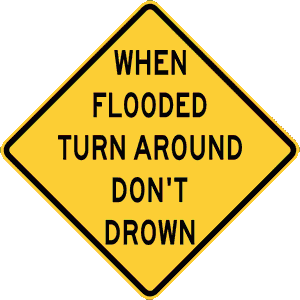 ---
For recovery information related to recent disasters in Riverside County, please go to our Disaster Recovery page at RivCoReady.org/Active-Events/Disaster-Recovery 
Para obtener información de recuperación relacionada con desastres recientes en el Condado de Riverside, visite nuestra página de Recuperación de Desastres en RivCoReady.org/Active-Events/Disaster-Recovery
---
2023 SPRING STORMS
4/15/2023 -- SBA DISASTER ASSISTANCE LOANS AVAILABLE TO BUSINESSES AND NON-PROFITS THAT INCURRED LOSSES RESULTING FROM STORMS ON OR AFTER FEBRUARY 21, 2023
The US Small Business Administration has announced that assistance is now available for businesses and non-profits related to storm-related impacts that occurred on or after February 21, 2023. 
Click here to go to the Disaster Recovery page to learn more.
WAS YOUR HOME OR BUSINESS DAMAGED DUE TO 2023 STORMS?
If your home or business was damaged or incurred losses during recent storms, please click this link and fill out the form. This form is not an application for assistance nor a guarantee of any benefits. The form is to assist the County Emergency Management Department in determining the extent of damages within the community. This information will be used to help determine if Riverside County qualifies for any State or Federal disaster programs.
---
Burn Scar Flood and Debris Flow Information
Know your risk! Review our Storm Ready page to learn about the dangers of mud and debris flows following wildfire and the safety steps you must take to prepare. 
All residents in burn areas are reminded to be vigilant and prepared to evacuate if public safety officials determine evacuations are necessary. Flooding, mud flows and debris flows can happen at any time.
If you have an emergency, call 9-1-1
Get emergency information for your address via phone, mobile phone, email and text by registering for Alert RivCo.  
---
Southern California Edison Public Safety Power Shutoff (PSPS)
THERE ARE NO CURRENT PSPS IN RIVERSIDE COUNTY
When there are extreme and potentially dangerous weather conditions, power companies may need to call a Public Safety Power Shutoff (PSPS) event. During these events, they will proactively turn off power in high-fire-risk areas to reduce the threat of wildfires. The County of Riverside does not control PSPS. For more information on PSPS, please visit the Southern California Edison PSPS website or call (800) 611-1911.
Public Safety Power Shutoffs are not an action taken by the County of Riverside, and questions/concerns should be directed to your power utility provider.
A map has been created to show information related to PSPS activities in Riverside County (map for illustration-click on map for current impacts). It can be found here.
The map image below is an example and may not reflect the actual PSPS status. Please click on the link for up-to-date PSPS information.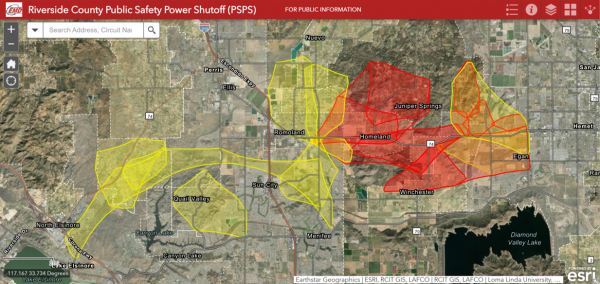 Maps and names of SCE circuits can be found on the Southern California Edison website, here.
For information on Cooling or Warming Centers in Riverside County, a directory can be found here.
---
Click below for up-to-date information from other departments or agencies:
** Check with individual cities for their current information.